The fact that podcasts are now one of the best and sought after content mediums in the world is no news. They're so popular that there's even a growing wave of crime podcasts sweeping the digital airwaves.
In the digital marketing sphere in particular, they have acted as a source of unique content, providing different perspectives, while also being the place where experts share their tips and tricks to the public. So, if you've been struggling to find good content lately or you're simply looking for actionable insights, then look no further. In today's blog post, we're listing our top 10 digital marketing podcasts on our subscription list, some focusing on generic digital marketing while others being more focused and specific. There really is something for everyone here, so keep reading!

No. 1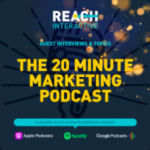 20 Minute Marketing by Reach Interactive
This podcast covers daily activities, current trends and the future of the industry. It also includes recurring themes such as SEO, PPC, social, branding, content, and more. For the final five minutes of each episode, the podcast also asks guests to share some stories on their career growth.
20 Minute Marketing is loved by our team at Apidae since it includes stories about the true relays about the seemingly "free marketing tactics", which get debunked. This podcast lets you in on the true costs, tactics and resources involved in making these 'tactics' a success.
Where you can tune in:
No. 2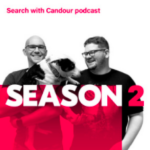 Search with Candour by Candour
If you're working in search marketing, you need to follow this podcast which is particularly focused on important bits of news and information you need to know about SEO and PPC. Running weekly and ranging from more technical aspects to content and strategic ones, this is a great podcast with a lot of original content.
Our personal favourite bits of information focuses on tools (a great place for new resources that can make your life easier) and exclusive tips and tricks on SEO.
It's also worth following Mark Williams-Cook on Linkedin – his unsolicited advice bits are pure gold!
Where you can tune in:
No. 3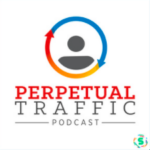 Perpetual Traffic by Scalable Media Network
Perpetual Traffic is a semiweekly podcast that shares cutting-edge strategies on acquiring leads and sales for your business through paid traffic. The show is produced by the Scalable Media Network and hosted by Ralph Burns and Kasim Aslam. The duo share insight on paid traffic being the act of putting your product, service, or message in front of your target audience… It's the act of acquiring customers online while also building goodwill, and is the lifeline of any business. So, whether you're a media buying expert or you've yet to create your first Facebook or Instagram ad, you'll discover actionable strategies that can be applied.
Perpetual Traffic combines the paid traffic strategies developed at DigitalMarketer with the real-life agency experience of the hosts. This podcast allows you to listen to real stories of business owners, just like you, and how they overcame struggles with digital marketing and online advertising. Learn how digital advertising, be it Facebook, Instagram, YouTube, Twitter, Google AdWords, LinkedIn, and others, can work for your business.
Where you can tune in:
No. 4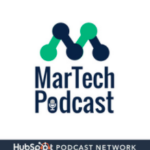 MarTech Podcast by Hubspot
The MarTech Podcast tells the stories of world-class marketers who use technology to generate growth and achieve business and career success. In each episode, you'll hear from an innovative marketer as they walk through their career path and discuss the challenges of their current roles.
This podcast will unearth the successes and pitfalls of industry experts from companies the likes of AdRoll, Hubspot and Deloitte, as they share their real-world experiences and teach you the tools, tips, and tricks that they've learned along the way. Some of the episodes touch upon how to handle the increasing demands of a growing business and the respective tech stack – great stuff to help you avoid tool overloading and making sure everything else is more integrated and more fully utilised.
Where you can tune in:
No. 5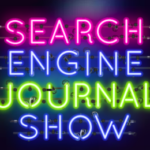 Search Engine Journal Show by Search Engine Journal
They talk all things SEO, PPC, social media, content marketing, and digital marketing with the top industry experts and authorities. This podcast strays away from simply talking about features, functionality updates and best practices, but delve into some interesting avenues – ie: making Pinterest a profitable channel, product-led SEO, WordPress SEO for Enterprise.
💡You'll probably find some of the topics discussed from different angles in the first 3 podcasts as well, but remember that depending on business vertical, B2C vs B2B – results and efficiency can be wildly different so more insights will help drive better decisions.
Where you can tune in:
No. 6
Next in Marketing by AppsFlyer
For those of you familiar with AppsFlyer, this is definitely not about apps! The podcast tackles what's next in marketing chronicles, the massive ongoing shifts and reinvention at the intersection of marketing, media and advertising, all with the help of host Mike Shields -, former Wall Street Journal, Business Insider and AdWeek editor. The podcast also delves into the world of top stakeholders and industry leaders as they steer their companies through constant change. This one is all about trends – no tactics and particular strategies, but the global movers and shakers that can have an impact on your business.
If you like this, we also recommend tuning in to Scott Galloway – his podcast – the Prof G Pod and Youtube channel is definitely a lively and unapologetic analysis of what's going on in the world of business today, crypto, metaverse, and the biggest players in digital.
Where you can tune in:
No. 7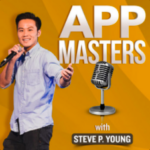 App Marketing by App Masters
Great bite-sized news bits and tips concentrated in 14 mins. Get the latest news and updates on ASO, app stores features, and functionalities while also discovering app marketing growth hacks from the top app publishers. Learn the secrets of app store optimisation, app store features, and online marketing to drive more downloads for your mobile app.
Something we have a love-hate relationship with is their constant advertising of tools – which is somewhat super blatant but is also great for your discovery. It's super short though, so not so bad maybe?!
Where you can tune in:
No. 8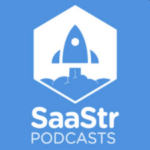 The Official Saastr Podcast by Saastr
The Official Saastr Podcast is the latest and greatest from the world of software as a service. It covers everything from marketing, team operations, funding, and product development – there is something for everyone in this show.
You'll be getting tips, tactics, and strategies from the most prominent operators and investors to discover how to attain success in the fiercely competitive world of SaaS. How do you get from $0 to $100m ARR faster? What does it take to scale successfully?
This podcast features experts sharing their wisdom and experience, coming from some of the most reputed companies – long standing SaaS businesses and the new kids on the block: Twilio, UiPath, Asana, Atlassian, SurveyMonkey, BambooHR & Notion to name just a few.
Where you can tune in:
No. 9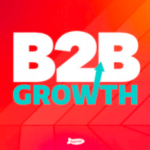 B2B Growth: Your Daily B2B Marketing Podcast by Sweet Fish Media
A great podcast for high-level operational and strategic aspects of B2B marketing (but not only). For those of you working in this area, you know how in B2B, in particular, that can end up being more significant for success than planning great tactics at a micro level – having the right optics, the right approach and having that alignment throughout management and different departments.
These experts share their learnings and playbooks from companies like Google, Kantar, and B2B agencies handling everything from demand generation and ABM – so it's worth listening to!
Where you can tune in:
No. 10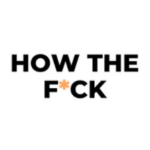 What the Fxck by ben Goudy
This one, as the second part of the title suggests, is all about no BS marketing strategies.
No one talks about best practices and generic stuff but actual concrete aspects of how the traditional avenues have worked for them, how they've tweaked their strategies, and particular ways in which their approaches have worked or not worked.
Some of the interesting pieces in this podcast feature placing B2B podcasts at the heart of the content strategy, repositioning products, growing the Youtube channel subscriber strategies, viral content & PR, and even how to plan your first 30-60-120 days of content strategy.
No advertising here – it's all about the knowledge! And it's all super on-point – people jump right into the topics at hand. 100% No Fluff!
Where you can tune in:
💡Need another reason to subscribe to some of these podcasts? It's THE best way to learn about the latest and greatest platforms and services out here. We suggest building up lists with them in a resources sheet – it will help inspire your optimisations and innovations and can cut your research time considerably.
Following any other interesting and insightful podcasts? We're always looking to listen to great stuff so let us know.